July 06, 2005
Happy Happy Happy!!!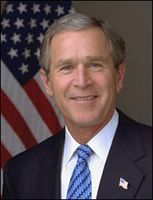 Happy Birthday Mr. President!!!
To be honest, I was going to send a card, but the one I found was probably in poor taste. I mean, what would the White House staff have thought if they'd opened a card with a cartoon of Saddam Hussein in drag? Maybe they would have chuckled, but still, how does one pick an appropriate greeting card to send to the President?
And no offense to the RNC, but I didn't like that generic card I was to "fill in the blanks" and return with a hefty donation. It's not that I don't send the RNC money, but sometimes too much is too much.
Anyway, Happy Birthday President Bush!
Show Comments »