March 22, 2006
Visit Today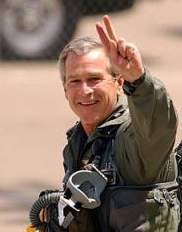 President Bush will be in my area today. No, I'm not going. It's only open to the Chamber of Commerce members, their employess...stuff like that. So, I'll have to content myself with watching it on the local news.
For what it's worth, I did see President Bush speak when he was on the campaign trail in 2004. It was worth the three hour drive to Erie.
And, for the record, Vice-President Cheney was in OH on Monday. Yeah...I found out about it too late to attend the event. Ah well...
Show Comments »