July 24, 2006
Jinkies!!
I've been told that, with my glasses on, I resemble Velma. You know, Scooby-Doo? Well hell, I've got to see, and without my glasses I'm...wearing contacts! But without those I'm pretty much useless in the vision department.
So it should come as no surprise that I have to place my specs just so on my bedside table, so they can be snatched and jammed on to my face lest one of the younglings is awake with dreams of Chewbacca sitting on their back. (I refer to Daughter...)
Anyway, last night I crawled into bed and somehow knocked my glasses on the floor. I'd thought of just leaving them there, but then my ever practical (and overly anal) mind thought "what if Daughter wakes up?" so I was reduced to pawing around in the dark to find my other two eyes.
It then struck me that, damn! I am just like Velma!
"My glasses! I can't find my glasses!"
Jinkies!! I'd better go get those knee socks and turtleneck sweater to complete the look.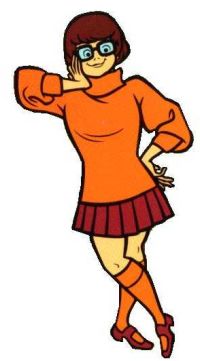 Show Comments »