July 27, 2006
Eddie's Got a New Gig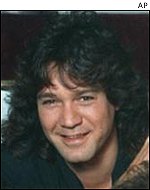 Eddie Van Halen is now going to compose music for adult films. Skin flicks. As my dad called them: "suck and f*ck movies."
Eddie goes so far as to compare the director he's working with to Spielberg. Spielberg?
But plese, click on this link, if only to see the contrast between the Eddie in the photo above with the current, post-Valerie Bertinelli Eddie.
Show Comments »