August 02, 2006
What Say You?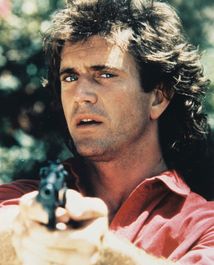 So, Mel Gibson. What do we think?
Personally, I think he's a dumbass who should learn about the concept of filtering the info between his brain and his mouth.
Or get a blog, one of the two.
Look, I've always liked Mel, especially his ass in the first Lethal Weapon movie. (Oh what a wonderous sight for a seventeen year old girl!) But now he's just acted like an ass.
His first mistake was driving drunk (and getting caught), but for the love of crap, Mel, what don't you understand about "license, registration, proof of insurance, get out and walk this line"?
Is he anti-Semitic? Well...admit it, don't we all have some not so politically correct opinions? But as far as Mel goes...perhaps he is.
I don't care how drunk he was, he should have kept his mouth shut. I know, people's inhibitions are lowered when they drink, trust me I KNOW. This is why I don't flash my pretty bras to everyone and when I'm sober as a judge. I just do that when I'm drunk.
For the record, I'm not anti-Semitic (I don't know anyone who is Jewish, and to be honest, I don't understand anti-Semitism in the first place; what did the Jews ever do to deserve that???).
Show Comments »