August 06, 2006
Goin' to the pizza parlor?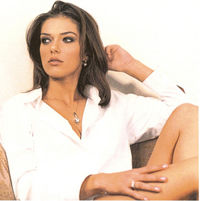 Happy birthday Adrianne Curry!
Ms. Curry....Mrs. Brady...um, Mrs. Knight! Anyway, she's 24 today.
I wonder if Peter...er, Christopher, will take her to the pizza parlor. Or the soda shop. How about a lovely dinner of pork chops and applesauce?
Did Pete...Christoper save up his green stamps to buy Adrianne a nice birthday present?
(Damn, I watched too many Brady Bunch re-runs.)
Oh, and for some extra fun, go read Adrianne's blog.
I joke, I'm a terrible hypocrite, as I was glued to the TV every Sunday night to watch these two.
Show Comments »