November 01, 2006
Gift Idea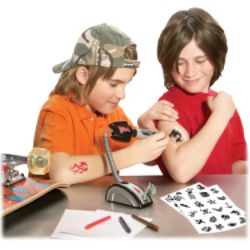 From the pages of the Sears Wish Book, the "GR8 TaT2 Maker":
A great gift for ages 6-12 Years Open up your very own pretend play tattoo parlor. This easy-to-use tattoo maker kit includes an electronic tattoo pen and funky stencils. Using soft, safe pulsating action, the tattoo pen creates realistic, washable designs with dramatic effects.
Yeah, what child aged 6 and up doesn't want their very own tattoo? And how about those kids in the picture? Hello?
Sheesh.
Show Comments »