November 17, 2006
Did Millions Watch?
Yesterday was the 25th anniversary of the Luke and Laura nuptials. It was also the day they got remarried...although it won't count for much, since Luke is still married to Tracy.
Oh wait, did I give it away?
Anyhoo, I watched yesterday's episode and thought "My gawd, I saw this the first time - 25 years ago - and here I am, crying again!"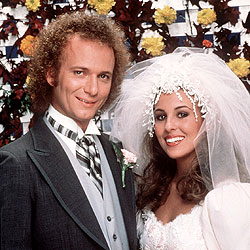 Bawling like a fool, because I read Soap Opera Digest, I know what's going to happen (or not happen); I remember so much about the first wedding...and then the two of them danced in that gazebo, to the music they danced to when they were in the department store all those years ago.
I'm a sentimental wuss, okay?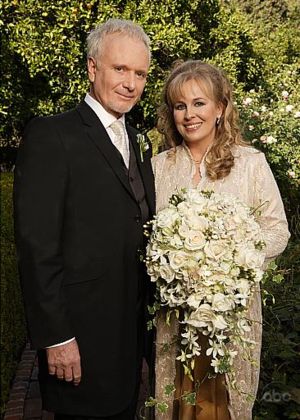 But did millions watch this time? I hate to say it, but I was a little disappointed. Robert Scorpio was in the last row; he got less than five minutes screen time, and there was no interaction with him and Laura!
And that damn Maxie-pad! That little wench! Argh!
And that friggin' Helena! Not Elizabeth Taylor this time, but still.
Ah well. Beggars can't be choosers, I suppose. At any rate, I know what's coming up next week (Jason's life in the balance! Carly and Jax!), so I guess I'll see what happens then.
Show Comments »