December 30, 2006
Really Good Movie
Last night I watched the DVD Husband gave me for Christmas.
Which one? State of the Union.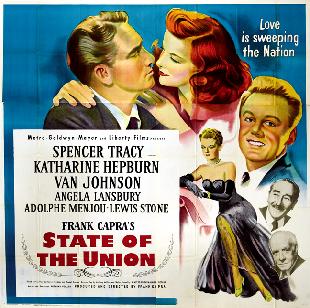 I wanted this movie primarily because it starred Spencer Tracy and Katharine Hepburn, but then when I started watching and found it was about Republicans...well then, you know I had to stay and watch.
I'm no Angela Lansbury fan, and she played a real bitch in this movie. Hepburn was a loving, if fawning, wife, but I love her characters, especially when they let loose or get tipsy. She snorts!
I wonder if Hepburn snorted in real life when she laughed.
And it's a Frank Capra movie, with the typical feel-good ending. But I liked it because, at the end, Tracy's character said essentially go to hell, I'm going to say and think what I want. I liked that.
The odd thing is that Hepburn and Tracy were both pretty liberal in their everyday life, so seeing them play loyal Republicans, even if it was back in 1948, must have been a stretch for them. (Although at one point, Tracy's character preached something almost akin to Socialism.)
Watch it for yourself and see what you think.
Show Comments »