May 20, 2007
Movie Review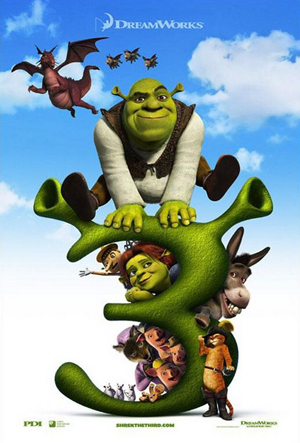 Today I took the younglings to see Shrek the Third. Eh.
Let's see....to start, people are rude. Specifically fat tweens who charge up and walk right in front of where you're sitting and don't even bother to say "excuse me."
Little bastards.
I got more excited about the trailer for the newest Harry Potter movie. And hello? Transformers? Live action?
I also saw the trailer for Hairspray...with John Travolta in drag and a fat suit. What happened to Danny Zuko? Damn, damn, damn.
Jerry Seinfeld in a bee suit. How the mighty have fallen.
As for the actual movie we were there to see, well....eh. Honestly, I think I spent most of the time trying to get comfortable in my seat and then escorting the ungrateful brats little blessings to the restroom.
Oh sure, there were some good moments, like Snow White suddenly belting out the beginning of "Immigrant Song." (Lord, please don't let Page and Plant license their songs for anything else, though.)
But, see it and judge for yourselves. I'm actually more excited about the new Pirates movie coming out next weekend, so I'm not the best source.
Show Comments »