September 08, 2006
Soap and Politics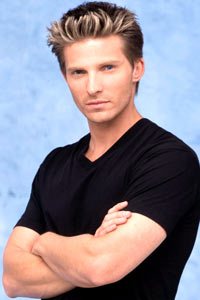 Hello. My name is GroovyVic and I watch General Hospital. That's right, daytime dramas. Well hells bells, take a peek at Steve Burton, a.k.a. Jason Morgan and seriously ask why I watch.
Actually, I tape it on SoapNet because I can't get ABC here.
So this afternoon I sat down to watch yesterday's episode once Daughter took her nap, and the former D.A. is telling her husband (the interim D.A.) and her daughter to go to a cocktail party being given by the mayor.
The daughter says she doesn't even like the mayor, to which mother replies something bitchy about "all his Republican friends."
Now, dammit, what the piss?
Yeah, so I'm a Republican, big woo. I don't want to watch a digdarn soap opera and hear political swiping! For crap's sake, that's what these here Internets are for!
Are they going to become "General Kos" for the love of crap?
Sooooo...to the writers of General Hospital I say: stop trying to talk politics! Stick to Lucky's drug addiction, Elizabeth's pregnancy, Lulu's pregnancy, Carly and Jax!
And make Jason take his shirt off!!!!!
Show Comments »