September 20, 2006
Doin' a Happy Boogie
I'm a happy gal this morning, as I finally found my Led Zeppelin CD's!
This is a big deal for me, because for the past two years I've been unable to figure out which mystery box they've been in. I found all my Ozzy stuff, but until today was unable to find my most favorite band of all time.
"I really don't know what time it was..."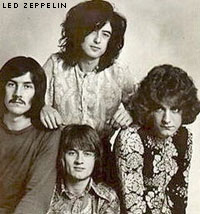 Listening to "Black Dog" right now, I suddenly have vivid memories of listening to it in college, sloppy drunk and staring at a picture of Dan Quayle (then the Veep of the U.S.).
Good times. Gooooooooood times!
Show Comments »