October 02, 2006
Magical Mystery Tour
Husband announced, just out of the blue, that he was going to take us somewhere this weekend. He won't tell me where we're going, except to say that it's West of the East Coast.
That narrows it down, huh?
Seeing as how we'll have the younglings with us, and Husband mentioned we'd be doing a lot of driving, I can't help but wonder if all my talking (and frankly, nagging) about going to Gettysburg paid off.
You see, ten years ago this month, October 13 to be exact, Husband and I got engaged in Gettysburg. Right in front of Evergreen Cemetery. Next to a line of artillery. And right in front of the monument for Weidrich's Battery, an artillery unit out of NY, who we just happened to know of because we knew the unit who portrayed them at reenactments.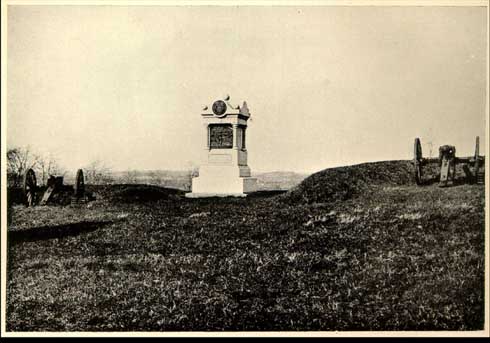 No, we weren't in period attire. No, it was at night -- terribly romantic -- and I was, well...I was rather intoxicated -- not so romantic. Well, I couldn't very well let good wine go to waste, could I?
And, in case you were wondering, this picture is from waaaaaay before Husband and I ever got there.
At any rate, I'm excited to see where we'll be going this weekend. It isn't like Husband to be so spontaneous these days.
Show Comments »