October 04, 2006
Cake or Death?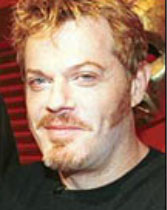 Eddie Izzard, my new crush du jour.
Husband doesn't get it; he keeps asking if I'm watching my "Eddie Gizzard" DVD's.
Hey, this guy is a riot. Hello? "Star Wars Canteen?"
And I sat here the other night watching Dress to Kill and just about pissed myself...I was laughing so hard.
Show Comments »