October 17, 2006
Happy Birthday!!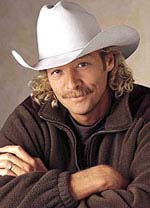 Birthday greetings to one of my favorite country singers, Alan Jackson, who turns 48 today.
I love this man's singing; his influences shine through in almost every song. But hey, with that accent of his, he could read the phone book to me and I'd be thrilled.
Anyway, have a happy day, Alan, and I won't rock the jukebox.
Show Comments »