September 01, 2007
I Like This Guy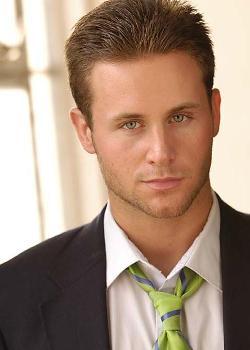 So, by now you all pretty much know that I watch General Hospital faithfully, but I also subscribe to the Soap Opera Digest. There's a pretty good interview in the latest issue with Josh Duhon, a.k.a. Logan Hayes. While I haven't quite figured out if I like his character on the show, I like what he had to say:
For now, Duhon is content to focus on work -- and fulfill his goal of taking the pretty out of daytime's young leading men. "That cat Clive Owen, man, I wanna see how that son of a bitch lives because what he brings across on the screen is just mesmerizing," he enthuses. "That's a leading man. Daniel Craig, same thing. I'm sick of these metrosexual pretty boys. A leading man should be a man that you would look at and go, 'I wanna follow you into battle.' Are you gonna follow Jake Gyllenhaal into war? I'm not! You gonna go chase after Jude Law leading a battle cry? I don't think so. Where's the substance? Willis. DeNiro. John Wayne. Steve McQueen. You believe in them, that no matter what happens, it's going to be all right. That's what being a leading man is all about. When I try to do my work, I want people to feel confident and secure with me that, at he end of the day, it's all going to work out."

Well said, man, well said. Now quite messing around with Maxie-pad Jones.
Show Comments »