May 28, 2008
Wonders Never Cease
Miracle of miracles! I just got a phone call from my reunion cohort, Ultimate Driving Machine, and she informs me that we've received our very first RSVP.
I think Ultimate Driving Machine is encouraged , especially after I told her that most folks don't respond until the last two weeks prior to the event. AND! Yesterday a dozen invites came back due to bad addresses. UDM was, I think, a bit fed up with trying to find people, but I laughed and said "Honey, you ain't seen nothin' yet."
By mid-July, I predict we'll both feel something like this: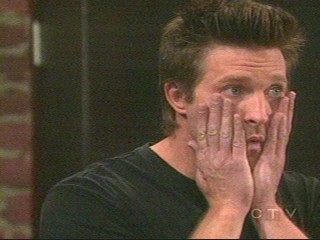 Screen cap found here.
Show Comments »